Hi, welcome to Halloween Series Wiki! Thanks for your edit to the Annie Brackett page.
Please leave a message on my talk page if I can help with anything! -- Zachdm77 (Talk) 21:59, April 18, 2010
Timeline Characters
Edit
I made remake pages for Laurie, Annie, Lynda, Bob, Tommy and Lindsey like you suggested. Once noticed the edits on the Laurie Strode page once again thanks :). As for the 4-6 and H20 timeline character and fates, I think we should have the original pages (such as Laurie Strode/Lindsey Wallace/Tommy Doyle) to just inculde the movies and for the 4-6 and H20 timeline character pages to include both the movies, comics and any other stories--Zachdm77 01:27, May 1, 2010 (UTC)
I Know What you Did Last Summer Wiki
Edit
Hey where trying to achieve wikia spotlight for all our new great horror wikis.
The user fingernails has just done up the I Know What you Did Last Summer wiki and there are still plenty of character and location articles in need of editing.
Could youn please help:)
http://iknowwhatyoudidlastsummer.wikia.com/wiki/I_Know_What_You_Did_Last_Summer_Wiki
The Link is above thank you
benjaminc 05:14, June 14, 2010 (UTC)BenWillisbenjaminc 05:14, June 14, 2010 (UTC)
Heres the new horror wikis template image which takes you the all the wikis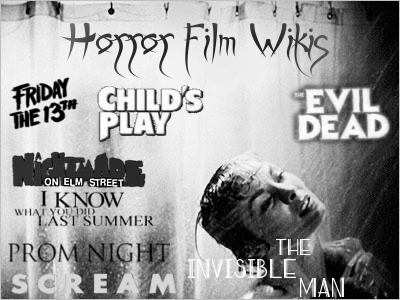 Hey I noticed all the edits that you have made to several character pages and how well you have contributed to this wiki, so I would like to say thanks for all the help, it is really appreciated--Zachdm77 07:11, June 17, 2010 (UTC)
You're very welcome. I've been editing the horror wikis in between exams. I usually do character pages because they're the greatest oppotunity to show off my knowledge :). Also because I find it boring, to, say write about Haddonfield, Illinois. I'll leave that sort of thing to the others.
Oh, now that I think of it, could you ask Hockey Machete to actually sign on to wikia rather than using his/her IP address? I want to ask him/her something.--Tiktok of Oz 19:14, June 17, 2010 (UTC)
Hockey Machete here.What's up?P.S,I'm a guy.24.161.0.23 03:04, June 18, 2010 (UTC)
Oh, hi! I wanted to know if it would be possible to add yourself as a user onto Wikia so you don't have to identify yourelf with every post? If there's a good reason, I'm very sorry, but I just thought it would be more convenient.--Tiktok of Oz 20:54, June 18, 2010 (UTC)
The thing is I'm about to go on vacation.So you probably won't hear from me for a few months,although I should be an official member be then.24.161.0.23 03:57, June 19, 2010 (UTC)
You wanted to see me?
Edit
Okay, I'm back and registered.What is it you wanted to see me for two months ago?Hockey Machete 18:07, August 10, 2010 (UTC)