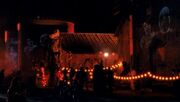 The Phantom Jam was a rave party celebrated on Halloween night in the town of Haddonfield, Illinois. The party was held inside of a barn next to an old church and boasted a wide variety of entertainers including nude dancing girls and the tasteless comedian Seymour Coffins. The exterior of the barn as well as the adjacent silo were used as backdrops to screen horror films such as Phantom of the Opera. Hosts and guests were encouraged to dress up in Halloween costumes and musical entertainment was provided by the alternative rock band known as Captain Clegg and the Night Creatures. Captain Clegg's band performed two songs titled "Transylvania Terror Train" and "Honky Tonk Halloween". That evening, Laurie Strode attended the Phantom Jam along with her friends Mya Rockwell and Harley David. Harley took an interest in another partygoever known as "Wolfie", while Laurie and Mya spent the evening drinking and dancing. Later that evening, Michael Myers had made a visit to the party and murdered Wolfie and Harley. It is unknown if Michael knew that his sister was also at the party or if he knew Harley was one of her best friends.
Ad blocker interference detected!
Wikia is a free-to-use site that makes money from advertising. We have a modified experience for viewers using ad blockers

Wikia is not accessible if you've made further modifications. Remove the custom ad blocker rule(s) and the page will load as expected.