The Halloween series wiki is all about the series "Halloween" created by John Carpenter. This wiki allows anyone to create or edit any article so it can become the best source for any information related to the Halloween series. We currently have 732 articles since March 1, 2010.
Films
Polls
Who is your favorite child character in the series?
Blogs
Featured Article
Laurie Strode
, is a character and primary protagonist in the Halloween franchise. She first appeared in the original Halloween, played by Jamie Lee Curtis.
Laurie's history is complicated by the fact that the series follows several conflicting continuities. Halloween H20: Twenty Years Later and Resurrection ignore the events of Halloween 4, 5, and 6, splitting the series into two separate timelines both originating from the original film and its sequel. The 2007 remake reboots the series continuity altogether, starting the timeline afresh. (Read More...)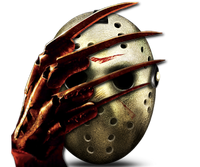 Ad blocker interference detected!
Wikia is a free-to-use site that makes money from advertising. We have a modified experience for viewers using ad blockers

Wikia is not accessible if you've made further modifications. Remove the custom ad blocker rule(s) and the page will load as expected.