This article is about the celebration. For other meanings, see Halloween (disambiguation).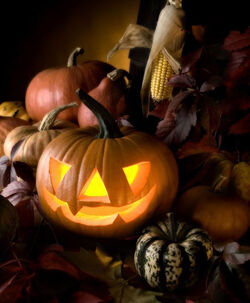 Halloween
or
Hallowe'en
(a contraction of "All Hallows' Evening"), also known as
All Hallows' Eve
, is a yearly celebration observed in a number of countries on October 31, the eve of the Western Christian feast of All Hallows (or All Saints) and the day initiating the triduum of Hallowmas.
According to many scholars, All Hallows' Eve is a Christianised feast originally influenced by western European harvest festivals, and festivals of the dead with possible pagan roots, particularly the Celtic Samhain. Other scholars maintain that it originated independently of Samhain and has solely Christian roots. Typical festive Halloween activities include trick-or-treating, attending costume parties, carving pumpkins into jack-o'-lanterns, lighting bonfires, apple bobbing, visiting haunted attractions, playing pranks, telling scary stories, and watching horror films.
Use in the Halloween franchiseEdit
The Halloween franchise has the festivity as a central theme, not only naming each installment after it, but setting them around that time of year and associating Halloween's scary celebrations with grisly murders, usually commited by main antagonist Michael Myers. Even when not involving the Myers character (as in Halloween III: Season of the Witch), Halloween plays a significant part in the films' storyline.
Ad blocker interference detected!
Wikia is a free-to-use site that makes money from advertising. We have a modified experience for viewers using ad blockers

Wikia is not accessible if you've made further modifications. Remove the custom ad blocker rule(s) and the page will load as expected.