Franklin Munroe appears in Halloween: Resurrection, played by Brent Chapman.
Biography
Edit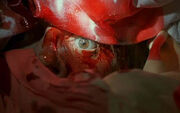 Franklin Munroe was a security guard at
Grace Andersen Sanitarium
. On October 31 2001, Franklin saw on the monitors who he believed to be one of the patients named
Harold Trumble
who was just taken in a few minutes before by
Willie Haines
. Franklin and Willie went to go fetch him but Willie stopped by a vending machine so Franklin went on ahead. Franklin found "Harold" (It was actually
Michael Myers
) and asked him what he was doing in the basement. Michael attacked Franklin and beheaded him with a butcher knife. He then stuck the head inside a washing machine.
[1]
His partner then discovered his head in the washing machine with bloody clothes and his headless corpse on the floor before he himself is too killed.
He was buried at a cemetery.
He is Michael Myers' 72nd human victim.
Appearances
Edit
References
Edit
Ad blocker interference detected!
Wikia is a free-to-use site that makes money from advertising. We have a modified experience for viewers using ad blockers

Wikia is not accessible if you've made further modifications. Remove the custom ad blocker rule(s) and the page will load as expected.