Bucky is a character in Halloween 4: The Return of Michael Myers, played by Harlow Marks.
Biography
Edit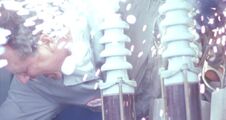 Bucky was a technician at the Haddonfield power plant who, on Halloween 1988, was working as usual when he noticed a strange masked man. He told him that he was on city property and to not trespass. When he realized that the man would not leave, Bucky threatened that he was going to call the police. Bucky turned his back and was suddenly grabbed by the man, thrown into a transformer and electrocuted, which resulted in a blackout.[1]
His family buried him in the Mt. Sinclair Cemetery in November 1988.
He is the 23rd victim of Michael Myers.
References
Edit
References
Edit
Ad blocker interference detected!
Wikia is a free-to-use site that makes money from advertising. We have a modified experience for viewers using ad blockers

Wikia is not accessible if you've made further modifications. Remove the custom ad blocker rule(s) and the page will load as expected.